Our Firm & Services
Every person leads an unique lifestyle. At D&L Financial Advisors LLC we understand this, and cater specifically to each client's needs. Our advisors meet with their clients on a regular basis and provides a personalized detailed review. This account review includes strategic recommendations to keep the plan 'on track', as well as any adjustments for life events. As Financial Advisors, Lori and Dennis serve clients as fiduciaries or "Investment Advisor Representatives" under Woodbury Financial Services, Inc., Registered Investment Advisor.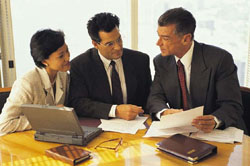 D&L provides the following services:
Medicare Advantage

401k Rollover Aid

Investment Advice

Portfolio Management

Retirement Planning

Personal Financial Planning

Estate Planning

Wealth Education for Individuals

Wealth Education for Families
At D&L Financial Advising, we pride ourselves on being able to offer full investment services. This corporate structure facilitates professional relationships with CPAs, Attorneys, and Insurance Professional to meet all the client's needs.